MgeeVital Softgel Capsules
---
Use of
MgeeVital

Softgel Capsule :
MgeeVital Softgel Capsule is a combination of Multivitamin, Multimineral, and Antioxidant Softgel Capsules that are commonly used to supplement nutritional deficiencies in the body. Polyphenols are antioxidants that improve overall health and prevent oxidative stress. It aids in the production of blood cells and keeps one energised throughout the day. The tablet is used to relieve tiredness and weakness. The use of these capsules helps to avoid nutritional deficiencies.
These Multivitamin & Multimineral Softgel Capsules are for treating or preventing vitamin deficiency caused by a poor diet, certain conditions, or pregnancy. Vitamins and iron are important bodybuilding components that aid in your overall health. Vitamins and minerals are necessary for bone health as well as skin beauty.
Apples, aloe Vera, and other fruits and vegetables contain antioxidants. Antioxidant Softgel capsules reduce the risk of heart disease and some cancers. Antioxidants scavenge free radicals from the body's cells, preventing or reducing oxidative damage.
Benefits of
MgeeVital

Softgel Capsules :
It fills the deficiency of multivitamins.

Because it contains antioxidants, it is the finest for heart health.

It has multi-minerals and is hence effective for blood cleansing.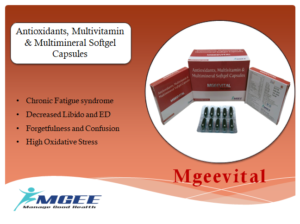 How to Use :
Multivitamin & Antioxidant Softgel Capsules should be taken at a set time with milk or water. It should be taken three times a day for best benefits, and you should not take it unless your doctor or dietitian has prescribed it. The impact of these soft gel capsules to the body is increased when taken frequently at the same time.
Precaution and Side Effects :
Overdosing on these capsules might induce nausea, vomiting, and diarrhoea, so follow the doctor's instructions. Because it is a nutritional supplement, it has no negative side effects.
Safety Information :
Store Below 25 C in a cool & dry place.

Protect from direct sunlight, heat & moisture.

Keep out of reach of children.