MgeeDex Gel
---
Use of
MgeeDex

Gel :
MgeeDex Gel is used to treat arthritis-related joint discomfort. Nonsteroidal anti-inflammatory medications, such as diclofenac, are a type of medication (NSAIDs).
How it Works :
Diclofenac diethylamine, Linseed Oil, Methyl Salicylate, Menthol, and benzyl alcohol are all included in MgeeDex Gel. Non-steroidal anti-inflammatory medications (NSAIDs) such as Diclofenac diethylamine and Menthol act by inhibiting the release of particular chemical messengers that cause pain and inflammation (redness and swelling). Linseed Oil is a plant-based oil that helps to reduce inflammation and increase blood flow at the application site. It also improves Diclofenac diethylamine penetration through the skin. On the skin, Methyl Salicylate has a cooling effect.
How to Use
MgeeDex

Gel :
This drug is only to be used on the skin. Use the dosage card(s) that came with the drug to calculate the correct dose. Place a dosage card on a flat surface so the print on the card can be read. Squeeze an equal line of medication from the tube onto the dosing card, then measure the appropriate dose using the marks on the card. Gently rub the drug into the afflicted joint four times per day, or as prescribed by your doctor. To apply the drug, use the dosing card. Do not use this drug if you have cuts, infections, or rashes on your skin.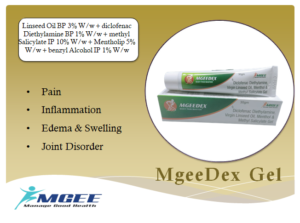 Common Side Effects :
The application site may cause skin irritation or redness. Tell your doctor or pharmacist right once if this effect persists or worsens.
MgeeDex Gel has the potential to elevate your blood pressure. Regularly check your blood pressure and notify your doctor if the readings are too high.
Precaution :
Tell your doctor or pharmacist if you have any of the following medical conditions: asthma, aspirin-sensitive asthma (a history of worsening breathing with a runny/stuffy nose after taking aspirin or other NSAIDs), liver disease, stomach/intestinal problems (such as bleeding, ulcers), heart disease (such as previous heart attack), high blood pressure, stroke, swelling (edoema, fluid retention), blood disorders (such as anaemia), bleeding/clotting problems, growt (nasal polyps).