Megma-9G Softgel Capsules
---
Use of
Megma-9G

Softgel Capsules :
MEGMA 9G Softgel Capsule is a multivitamin and multimineral supplement that provides essential nutrients for growth and the formation of red blood cells in the bone marrow. It helps to strengthen the immune system and is required for cell division and proliferation. This vitamin and mineral combination keeps you healthy and energetic all day. Nutritional Balance, Vitality, Energy, and Mental Alertness are all supported. Cleanse your body: Minerals, antioxidants, and B-complex vitamins found in a good daily multivitamin assist the body eliminate pollutants.
Composition :
Ginseng increases the body's stamina and increases the intake of oxygen by tissues.

Multivitamins are essential to create red blood cells in the marrow and provide nutritious ingredients for growth.

Multi-minerals are beneficial to the immune system and are required for cell division and proliferation.

Lycopene is an antioxidant that neutralises dangerous free radicals.

Grape seeds reduce the buildup of age-related oxidative DNA damage in neurons.

Zinc promotes the normal functioning of calcium and aids cell growth and development.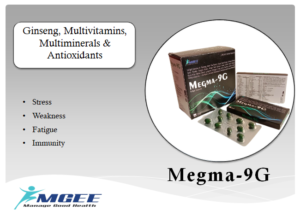 Benefits
Megma-9G

Softgel Capsules :
This capsule is intended for health prevention and immune enhancement.

Improves blood circulation and has a favourable influence on one's health.

Ensures that the organs and tissues receive adequate nutrition.

Positive impact on the central nervous system's function

Used to promote healthy nails, skin, and hair, as well as overall wellness.
How to Use :
As directed by the physician. The capsule should be swallowed as a whole and not be chewed or crushed.
Safety Information :
Before using, read the label carefully.

Keep out of children's reach.

Keep in a cool, dry location.

This product is not for diagnosing, treating, curing, or preventing disease.

This product should not be used to replace a well-balanced diet.

If you're pregnant, lactating, or on any other medications, talk to your doctor.