Methylcobalamin, Pyridoxine HCL & Nicotinamide Inj
---
Mecomide

is used in the following ways:
Mecomide (Methylcobalamin, Niacinamide, and Pyridoxine) is a supplement that is used to correct nutritional deficiencies such as Vitamin B12 and Vitamin B6 deficiency.
Mecomide's

Mechanism of Action:
Mecomide is a combination of three nutritional supplements that restore the body's stocks of vital nutrients: Methylcobalamin, Niacinamide, and Pyridoxine.
Mecomide

Injection should be administered as follows:
Intravenous: A healthcare expert will give an injection. Do not self-medicate.
Common Side Effects of
Mecomide

:
There have been no reported adverse effects.
Experts' Opinion on
Mecomide

:
Mecomide (Methylcobalamin, Niacinamide, and Pyridoxine) is a vitamin B supplement that helps to cure vitamin B insufficiency.

If you're on a Parkinson's disease drug like levodopa, let your doctor know.

If you are pregnant or breastfeeding, please notify your doctor.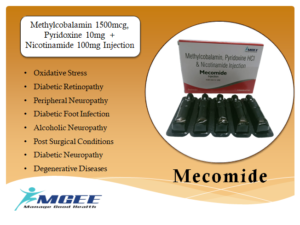 Some Important Information about

Mecomide 

:
Mecomide is made up of three ingredients: mecobalamin, nicotinamide, and pyridoxine hydrochloride. Cell development, blood production, and protein synthesis are all regulated by mecobalamin. Nicotinamide is a kind of vitamin B that aids in the absorption of essential nutrients. Protein, lipid, and carbohydrate metabolism, as well as the creation of red blood cells and neurotransmitters, are all aided by pyridoxine hydrochloride.
Follow your doctor's instructions for taking Mecomide. Depending on your medical conditions, you should take Mecomide for as long as your doctor has prescribed it. Numbness in your hands or feet, an upset stomach, diarrhea, a loss of appetite, and dizziness are all possible side effects. The majority of Mecomide's negative effects do not require medical treatment and fade away with time. However, if the negative effects do not go away, consult your doctor.
Before starting Mecomide, tell your doctor if you're using any prescription or non-prescription medications or herbal supplements. Please let your doctor know if you have a known allergy to any of the ingredients. If you have malabsorption syndrome, please tell your doctor (difficulty absorbing nutrition from food). Please with your doctor before using Mecomide if you are pregnant or breastfeeding.
Storage :
Store in a cool, dry location away from direct sunlight.